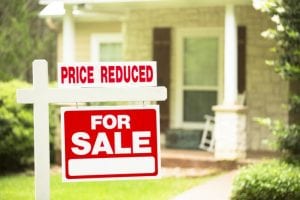 Home Buyers: This Could Be Your Moment
Has talk of inventory shortages and rising home prices prevented you from getting out there and searching for your first home…or moving up to your dream home? Well, according to a recent report from Trulia, the tide is starting to turn, and conditions are becoming more favorable for homebuyers in many areas across the country, with the share of home listings with a price cut growing to its highest level since 2014.
For much of the first half of 2018, the share of listings on Trulia with a price cut was largely unchanged from 2017, before shooting up in July and August. In August 2018, 17.2 percent of U.S. listings had a price cut, up from 16.7 percent a year ago.
Coupled with home price growth that's begun to slow, and inventory levels that are creeping back up in some places, a higher rate of price cuts could be a critical third confirmation that things may finally be shifting in buyers' favor, says Trulia Housing Economist Felipe Chacon.
"Buyers should be encouraged by the signals we're seeing in the market," says Chacon. "But not all buyers will benefit equally, and it pays to do research on your preferred neighborhood. Price reductions typically aren't uniformly spread out across a given city. Our research shows that price cuts are much more prevalent in higher-cost neighborhoods."
According to the analysis, of the top 100 metros, 63 had a higher share of listings with a price cut this August than last August—and some of the priciest and/or fastest-growing markets experienced the biggest jump. In fast-moving Las Vegas, for example, the share of listings with a price cut rose from roughly one-in-eight a year ago (12.6 percent) to more than one-in-five currently (20.8 percent)—the largest percentage-point jump among all metros analyzed. In San Jose, where the median home is worth more than $1.2 million and home values are growing more than 20 percent year-over-year, the share of listings with a price cut in August more than doubled compared to August 2017.
While increasing price reductions is welcome news for most, not all home Buyers are likely to benefit equally, says Trulia. In 79 of the largest 100 metros, a higher share of homes listed in more-expensive neighborhoods are experiencing price reductions than those listed in less expensive areas.
And although the report points to more price cuts nationwide, the reductions themselves are getting smaller. For the 12 months ending August 2018, the median price reduction nationwide knocked 2.6 percent off the listing price. This has been declining steadily since 2012, when the median price reduction was 4 percent. The median value of a price reduction today is less than the median price reduction at the outset of the recovery in 97 of the 100 largest metros analyzed.
Reprinted with permission from RISMedia. ©2018. All rights reserved.
**There is more inventory right now than in the past few years, but interest rates may be pushing stand still buyers to act now and that may reduce that healthy inventory. For a list of current inventory please call Marina Sarabia at 954-914-8056.
PropertyPress IDX Slider Widget
[wnt_list keyid="1″ title="Waterfront Homes in Fort Lauderdale" maptype="map_only" ownertype="all" paginated="false" sortoptions="false" maxresults="99″ min_price="350000″ max_price="990000″ listing_status="Active" has_pool="Y" city="Fort Lauderdale,Lauderdale By The Sea,Wilton Manors,Pompano Beach" search_mode="form" primarysearchtype="active" searchtype="city" state="FL" single_family="y" county="Broward" waterfront="Y" min_bathrooms="2″ min_bedrooms="3″ /]
PropertyPress IDX Search Widget