All-Cash Investment Home Prices Soar 21.2 Percent
Median sales prices for all types of residential real estate are soaring. According to the monthly HomeUnion Home Sales Report, prices for investment houses and owner-occupied homes increased 12.6 percent from one year ago to $266,500. The all-cash segment of the SFR sector also grew dramatically: then median sales price soared 21.2 percent to $186,500 in August year-over-year.
"Anyone taking out a mortgage, including SFR investors, will be able to leverage properties at historically low rates," explains Steve Hovland, director of research for HomeUnion.
"Mortgages on those assets, meanwhile, can be covered by rising rents. This explains both the recent surge in activity among investors acquiring SFRs and last month's continued price growth for owner-occupied housing."
Below is a complete breakdown of August housing market conditions: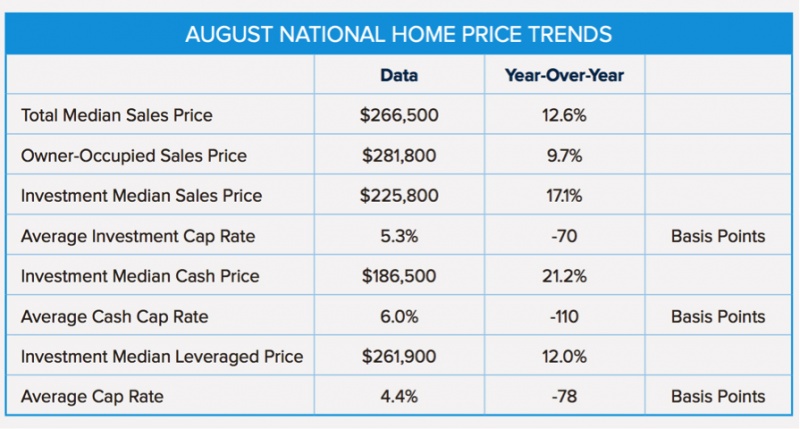 "Since a move from the Fed is unlikely until the December meeting, we expect investors to expand their portfolios further through the end of 2016 as the competition prevalent in the summer buying season fades," Hovland adds. "However, lenders will begin lifting rates well in advance of the December Fed meeting, so we expect interest rates to inch higher through year end."
For more information, visit www.homeunion.com. 

Reprinted with permission from RISMedia. ©2016. All rights reserved.
PropertyPress IDX Slider Widget
[mortgage mortgage_term="30″]
[wnt_list keyid="1″ title="Search Homes Wilton Manors, Fl" maptype="map_only" ownertype="all" paginated="false" sortoptions="false" maxresults="50″ search_mode="form" primarysearchtype="active" searchtype="city" state="FL" single_family="y" condo_townhouse="y" min_price="150000″ max_price="1000000000″ listing_status="Active" city="Wilton Manors" /]
PropertyPress IDX Search Widget