Name
Marina Sarabia & Kathleen Costanzo
Phone
954-630-7038
Mobile
954-914-8060
Fax
954-396-9900
Pager
954-914-8056
Toll Free Phone
Address
3696 North Federal Highway, Suite 101
City
Fort Lauderdale FL 33308
Country
US
Email

Info@MarinaAndKathleen.com

---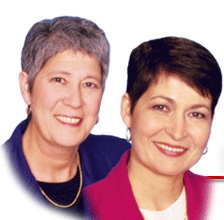 Marina and Kathleen are a Keller Williams Realty Professionals in Fort Lauderdale.  They are a "Real Estate Unit" experienced in multiple markets.

When you are planning to buy or sell real estate in the Broward County real estate communities of Fort Lauderdale, Pompano Beach, and Wilton Manors… it is important to have confidence in your real estate professional.  Our main commitment to you, as your Realtor, is to provide you with a "customized" plan for your specific needs.

Previous to our Florida 15 year real estate careers, we had 10 years of real estate experience in Southern California, where we worked in residential real estate as well as FDIC and REO properties with different banks in the  area.  The handling of the FDIC and REO properties gave us the backbone to our ability today, to handle large volume of sales which requires a great deal of planning and coordination to be successful.
OUR COMMITMENT
Always be the most honest, ethical, and hardest working agents that we can possibly be.
Represent our client's best interests 100% of the time.
Provide the highest level of services possible throughout the entire buying or selling transaction.
Our day will end when these commitments have been met!
WHO WE ARE
Marina…
Born and raised in Cartagena de Indias, Colombia, and has lived her entire adult life in the USA. Her educational background includes 3 years of college in her native country.

When Marina is not involved in Real Estate you could find her listening to music, playing her congas–or simply, readingt on the net about real estate and marketing, finance, sports, and business sections.  She loves poetry and salsa dancing. Once in awhile, catching up on a Netflix series, she will binge on a whole season at once.

She donates to dog rescue organizations as much as possible and also proud of rescued and placement of a few dogs on her own.

Her natural and straightforward approach is the way Marina gains the confidence and trust of those who do business with her as well as those who want to make her a part of their own circle of friends.

Marina has been living in the  USA since 1980. Real Estate has been her life since 1991.

Kathleen…
Born In Chicago, Kathleen has worked as an assistant manager of a real estate office, receiving honors for her production and service.

Success to Kathleen is putting her clients first, helping them make their dreams come true, and she does this by using her superior knowledge and innovative marketing skills, a strong client commitment, and refined negotiating skills.

Her vast experience and educational background affords her the ability to get the job done–each and every time! Marketing plans are customized to meet her client's needs. She demands that her clients always "EXPECT EVEN MORE."

When Kathleen is not servicing her clients she could be found in her favorite part of her house -the kitchen. She prides herself on being a gourmet cook. She always enjoys traveling, reading, and donating her time to help the elderly; she has also stated that she has never met a dog that she hasn't loved!
Combined… They have the credentials and qualifications to be your Elite Real Estate Team!
We know that you have a choice…but look at our qualification to make your decision an easy one:
Both Members of the prestigious "International President's Premier"

Relocation Specialists

Licensed in Florida and California

Kathleen is a Previews Property Specialist

Marina is Bilingual and e-PRO Certified

Kathleen has a Doctorate in Marketing

They are highly respected among their colleagues


They want their clients to expect EVEN more